You are warmly invited into the season of Advent; a time to pause amidst the busyness, reflect on the spirit of the season, and prepare our hearts to receive the good news of Christ's birth. Advent has been celebrated in the Christian church for over 1,000 years.
Advent begins on the fourth Sunday before Christmas Eve. Each week, as we light a new candle on our Advent wreath, it has become traditional to turn our thoughts to the theme for that week: Hope, Peace, Joy or Love. December 13 begins the Advent Week of Joy.
You can join in celebrating Advent with us from home. Click here for short prayers to accompany each week's candle lighting. Or contact us and we will drop off a free "Advent in a Bag" kit to anyone living in North Vancouver, while quantities last. It contains materials to make a simple Advent wreath and other ideas for celebrating the season.
Each week a new section of this website will offer a virtual Advent wreath lighting from St. Clement's, reflections on the theme from our fellow citizens in the community, and stories, songs, prayers and blessings on Hope, Peace, Joy or Love. There is much here to inspire people of all ages!
And don't forget to visit our Advent Tree in Lynn Valley Village, along with St. Clement's new outdoor Advent wreath. Come find us at 3400 Institute Rd. Warm Advent wishes to you as we journey together to Christmas.
Third Week of Advent
We light a candle for Joy
Where were Mary and Joseph spotted this week?
Send us your photos!
In the Mexican Las Posadas tradition, Mary and Joseph travel around the village looking for shelter in the weeks leading up to Christmas Eve. Here you can see them in St. Clement's front garden. We would love to see your photos of Mary and Joseph around North Van. We hope they find many places of joy this week! You can use your own figures, or find some to download below.
Mary and Joseph
Visit our virtual Advent Calendar
Click on a new window each day
Every day you can visit our virtual Advent Calendar to find a new photo, thought, video or other surprise. Maybe one of your photos will end up here!
Virtual Advent Calendar
A word about joy
A message from the Rev. Peggy Trendell-Jensen
Get your joy on!
Want your spirits lifted? Click below for the wonderful video-gram sent to you by Lynn Valley's Hannah Greenfield, one of St. Clement's lively, joyful spirits!
Activities for the Week
Something for hands, head and heart
Stories, Music, Podcasts, and More
A gathered collection of peace-filled resources we found and liked. Thanks to all artists, writers and speakers represented!
What did C.S. Lewis mean by "Joy?"
C.S. Lewis, author of the Narnia Chronicles and a literary colleague of J.R.R. Tolkien, came to a belief in God in his university years and thereafter he wrote extensively about the Christian life in books such as Mere Christianity. This best-selling classic remains responsible for the spiritual awakening of untold numbers of people.
Lewis describes his own conversion in his spiritual autobiography, Surprised by Joy. What did he mean by "Joy?" (He always used a capital letter when talking about Joy in this context.) This video offers Lewis's definition of Joy - a deep desire drawing us to a spiritual home.
Fear not...
"And the angel said to them, "Fear not, for behold, I bring you good news of great joy that will be for all the people."
- Luke 2:10
It is said that the Bible contains a variation of the phrase "Fear not" 365 times - one for every day of the year. The math on this may or may not be entirely accurate, but it's close. Again and again, we are encouraged to put fear aside and trust in God. We know from experience that when we respond to situations, challenges or upsets from a place of fear instead of a place of love, the result is never quite what it should be - and sometimes it's quite the contrary.
When the angel visited an unlikely bunch of shepherds to announce Christ's birth, she wanted them to put aside their understandable fear and to venture forth to witness the embodiment of a divine love. Where might we put aside our fear this season in order to clear our hearts for something far greater?
The nativity story from the Gospel of Luke is one of wonder and joy, and its words resonate down through the centuries. You can click below to hear the wellknown tale in Old English - or as narrated by Linus!
The Christmas story in Old English
The Christmas story, as told by Linus
Reflection on Advent Joy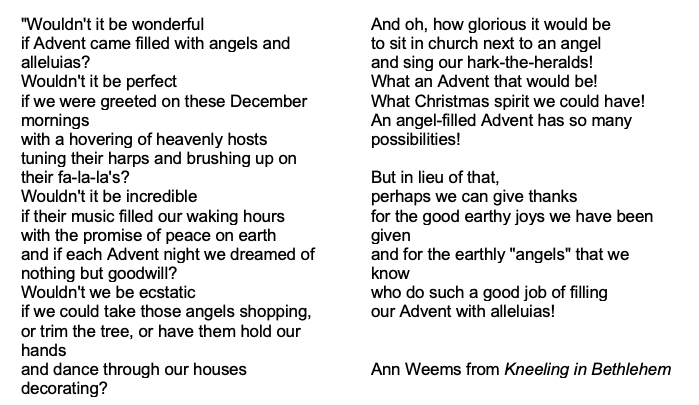 Advent Trivia
6) How many words can you make, with three letters or more, using the letters from the word ADVENT?
7) Christians usually fast during Advent, especially refraining from meat for the forty days before Christmas. True or false?
8) In 2019, how many babies in the United States were born with the name Joy?
a. 157 b. 432 c. 906 d. 1280