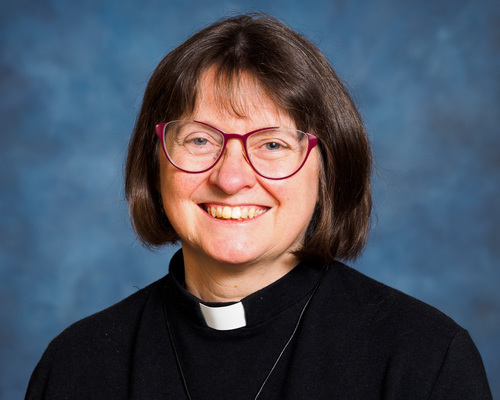 The Rev. Dr. Lynne McNaughton has been priest at St. Clement's since September 2008, celebrating 10 years!
She is always interested in accompanying people on their spiritual journeys, personally and in parish community life. She has a background in Celtic Spirituality, Christian mysticism, and Pilgrimage as a spiritual practise. Since 1997, she has led pilgrimages to Ireland, Great Britain and Europe.
Lynne loves to explore how our faith relates to our care for Earth and our call as a society to re-structure for social justice.
Lynne is a trainer in the Diocesan School for Parish Development, and in the Summer of 2016, Lynne was elected Deputy Prolocutor for General Synod of the Anglican Church of Canada. Lynne is the Anglican co-chair of the Dialogue of the Anglican Church of Canada and the United Church of Canada.
Lynne has two young adult daughters, who have both graduated from university. She is staff for two cats, and loves gardening, cycling, reading, and sings for fun in a community choir.
All the official stuff:
Lynne McNaughton holds an honours Bachelor of Arts, with Distinction, in Sociology and English from the University of Alberta, a Master of Divinity degree from Van. School of Theology, and a Doctor of Ministry in Spiritual Leadership from Columbia Theological School in Georgia. Ordained an Anglican priest in 1987, she served in two parishes in the Diocese of New Westminster Christ Church Cathedral and St. Mary's Kerrisdale, before joining the faculty of the Van. School of Theology in 1995, teaching Anglican Formation for ordination, and Christian Spirituality.